"There is an enormous time saving!"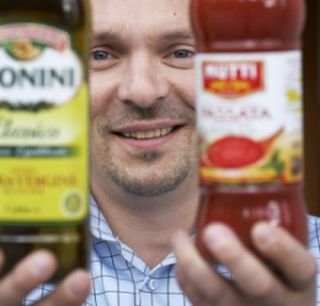 Name: Johan Viitanen
Occupation: Key Account Manager in the convenience foods trade.
Company Matric Italgross AB
Best thing about my job: There are constantly new challenges. I also appreciate all the exciting customer contact.

Matric Italgross has been trading electronically with its customers for a few years now. This has led to an enormous time saving and a minimal risk of error.
" Exder EDI suits us perfectly, says Johan Viitanen, Key Account Manager in the convenience food trade at Matric Italgross.

Electronic trading with Axfood was already fully operative when Johan Viitanen started in his post as Key Account Manager at Matric Italgross a couple of years ago.

" There was a lot of new information to get used to, says Johan Viitanen. But it proved to be an easily handled system. It was easy to learn and the information was easy to grasp.

Matric Italgross imports and distributes Italian delicacies to stores throughout the country. The company was formed at the beginning of the nineties by Riccardo Mondolfi, who wanted to offer Swedish consumers the entire range of the varied Italian cuisine.
Matric Italgross went over to electronic trading in connection with beginning to work together with Axfood. Exder EDI was a requirement on the part of Axfood.

As Johan Viitanen had other duties when Matric went over to electronic trading, he had no previous knowledge whatsoever of Exder EDI. He learned the system on his own by combining a crash course using the manual with telephone training.

" Everything has worked really well. If I had any questions, I just needed to contact Expert Systems. They have always been very accommodating and easy to deal with.

Exder EDI is a web-based system. All that is needed to work with the system is a PC with an Internet connection and a web browser. Expert Systems takes responsibility for operation, backups and system maintenance. All EDI flows to connected customers are carefully tested and verified.

The system is flexible and adapted to different customers" needs. Exder EDI includes support for maintaining articles and prices, agent orders, managing orders, order confirmation, advice notes and invoices as well as printing labels with SSCC codes.

Previously, Johan Viitanen worked by placing orders by phone and fax. A zero that got left out could have devastating consequences. All that eternal phoning and faxing also took up a great deal of time.

" The time saving achieved through electronic trading is enormous. There is also very little risk of error. I feel very safe using Exder EDI. It is constantly updated and has a great future!