Family company with proud lineage trades electronically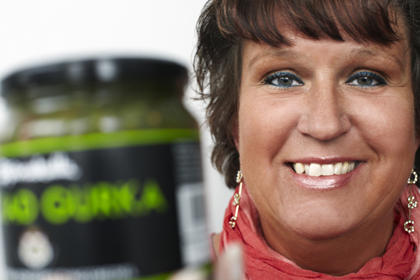 Name: Helena Ljungqvist
Occupation: Order clerk
Company: Björnekulla Fruktindustrier
When Coop required electronic trading, historical family company Björnekulla Fruktindustrier was ready.
"For us, trading electronically brings only advantages," says Helena Ljungkvist , orders clerk at Björnekulla.
"We didn"t experience any problems in the transition to electronic trading. The process was really just as smooth as it possibly could be," says Helena Ljungkvist at Björnekulla. Björnekulla Fruktindustrier is one of Sweden"s oldest fruit processing companies. The company sells jams, cordials, marmalade, ketchup, mustard and pickled gherkins. One of its biggest selling products is uncooked lingonberry jam and another is old-fashioned gherkins " the kind that is a bit crunchy.
"We are good at ecological products," Helena explains.
Björnekulla has been trading electronically since 2004. Initially, it invoiced its customers via Exder EDI. Later, ICA, Servera and Axfood also required the company to accept electronic orders.
"We have been trading electronically for almost seven years. It"s been a very smooth process!"
When Coop announced that it would be requiring electronic trading, Björnekulla had already been working that way for several years.
"We began trading electronically with Coop last autumn. It was really just as easy as it possibly could be," says Helena Ljungkvist. "All we needed to do was register Coop in our own system. It didn"t take long at all before we were up and running " just a couple of weeks."
Now the company is also looking forward to starting trading with Bergendahls, who have also expressed an interest.
"We are ready," says Helena, who finds EDI very practical when trading with customers with completely different business requirements.
For some time now, Björnekulla has also been working with article information via Exder.
"Because we"re dealing with food, it can be a bit tricky with different expiry dates. There are many parameters to keep track of. But actually, I took part in a course given by Expert Systems over the phone and that made me a little wiser."
Björnekulla has recently launched several new products. Helena has prepared hundreds of product certificates. Each product certificate includes details such as length, breadth, height and expiry date for a consumer package, tray or pallet. They are then sent to each relevant customer.
"It works extremely well," says Helena. "Now, all of the data is registered, once and for all!"
What is it like working with jam and marmalade day-in, day-out? Don"t you get tired of all that sweetness?
"Not at all! I"m rather patriotic about our products. I only eat jam and marmalade from Björnekulla. On holiday, I tried eating another brand of strawberry jam, but it wasn"t any good," she laughs. "My personal favourites are our new marmalades. At the moment, I"m enjoying our blackcurrant and strawberry marmalades. They"re just wonderful!"