ICA To Go requires rapid flows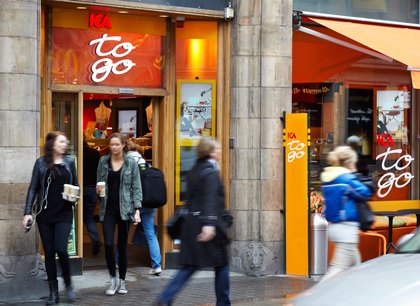 ICA is focusing on ready-made meals with ICA To Go concept. The challenges are numerous. Pre-prepared dishes, salads and sandwiches, for example, have a short shelf life and cannot be left on display too long. The solution is a flow with short lead times.
ICA had noticed a new need among its customers. People on the go wanted take-away food, such as quick breakfasts, lunch or a snack before working out. ICA chose to invest in a completely new shop concept, ICA To Go. To date, two trial shops have opened in central Stockholm. The sales trend has been amazing and the customers are very satisfied. What sells best of all are the pre-prepared dishes. However, before everything fell into place, Lisa Manske, logistics manager for ICA To Go, had one headache to deal with: How would it all work in purely practical terms?

"The target scenario was very clear," she explains. "When the customer enters the shop, there are to be fresh sandwiches, salads and lunches available " regardless of whether it"s seven in the morning or five in the afternoon." One of the challenges was that the products had a short shelf life. Nothing could be left lying around. ICA was already working with suppliers who had Exder, so it was simply a matter of connecting the "convenience" flow. Expert Systems ensured that Exder could communicate with the shops" ordinary order systems. The shops could then place an order that proceeded directly to the supplier"s Exder, bypassing any intermediaries.
"Normally, the shop places an order that goes via ICA, which contacts the supplier. The supplier sends the goods to ICA, which receives and redistributes them by ICA lorry to the shops. Now, deliveries of fresh products go straight to the shop, which can hold off on placing its order until the very last moment. That allows the shop to adjust its orders according to tomorrow"s weather. Will it be sunny or rainy? Will we need lots of salads or just a few?
The shop places its order by one o"clock at the latest and the supplier delivers at six thirty the next morning.
"This kind of flow, with short lead times, is made possible by Exder. The really exclusive feature is that the supplier does not need to develop its system. The functionality is already there in Exder," Lisa explains.
By means of delivery plan, suppliers can also control in detail when deliveries will be made to each shop, on what dates and at what times. That means the suppliers can adapt their distribution schedules according to aspects such as the traffic situation. Based on this, the shop"s order system works out when the next order must be placed to the supplier. When the order is dispatched, it is always correct and the shops avoid having to wait for the supplier to receive it. The shop always has up-to-date information on how much it has on its shelves and how much is due to be delivered. The shops also receive their invoices electronically.
"That saves a lot of time for our shops," says Lisa.
The system has been developed in close cooperation with Expert Systems.
"Working together with Expert Systems has been a lot of fun. I think we have gained a good understanding of one another. For a while, things got a bit stressful, but we applied a thorough test process that allowed us to pick up on everything that could be improved."
ICA To Go is still a test project. ICA is currently looking for suitable locations for additional shops.
"This solution has made us highly flexible. It"s easy to connect new suppliers, so the whole thing works very efficiently. No we"re keen to open more ICA To Go locations!"