PLS has a total solution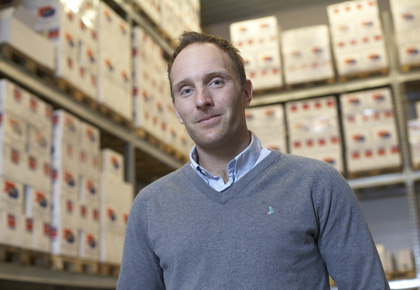 "We want our sales staff to spend
more time with our customers"
Name: Marcus Dyberg
Post: General Manager
Cleaning tips: Use products that both protect and clean.
PLS not only knows how to get your floor shining brightly and your window panes absolutely spotless. They are also good at business. Their secret? Instead of spending all their time at the office, they are out meeting their customers.
"" We let our business system, Exder, take care of all the administrative work, says Marcus Dyberg, General Manager at PLS.
" We chose Exder because it is a user-friendly and cost-effective system that is easy to get started with. This meant that we could focus on doing business, says Marcus Dyberg.
"PLS is a turnkey supplier within the area of cleaning and hygiene. They have products for every area, everything from disposables for the small company to advanced machinery for industry. Their customers are all types of company: the small hot-dog stand, Volvo and the entire Gothenburg health services. They also sell via wholesale chains and have customers in Norway, Finland and Iceland.
"" Our floor care system, I-Vax, is our bestseller by far. Today, this is the leading wax system in the Nordic region.
Ever since PLS was formed 35 years ago, they have realised the importance of meeting their customers and demonstrating their products. This way of working continues into the present day and has provided them with invaluable knowledge and experience.
"" We know our customers and we know what requirements they have as regards our products, says Marcus Dyberg.
"In order to be able to spend more time with their customers, they have invested in electronic trading.
"" We want our sales staff to meet our customers and spend less time on administration, which is possible with Exder, says Marcus Dyberg. It is out in the field that business is done, not at home in the office!
PLS has also opened a store online. This means that they are always available to their customers. With Exder Webshop, they can quickly and easily change content, structure and prices on the website.
"Previously, PLS worked using another business system. One of their important customers was the municipality, which required all suppliers to connect to an EDI solution. In the previous system, the EDI solution was expensive and complicated, which led to them deciding to change to Exder.
"" With Exder, Expert Systems was able to offer a cost-effective total solution that we could quickly get started with. It was important for us to be able to get started quickly, since we wanted to be able to focus on our business. It was also important for us that the system was user-friendly, says Marcus Dyberg.
"Over the years, PLS has extended its system, adding more functions.
"" Today we have a fully integrated business system that manages orders, stock, invoicing and accounting. It works perfectly, regardless of whether customers trade with us in the old-fashioned way, via EDI or online. We have the EDI, Webshop andBusiness Exder modules, says Marcus Dyberg.
"PLS's experience has been that things have gone well growing with Exder. Expert Systems have been very sensitive towards our requirements and ideas.
"" At the moment we have the exact systems we need. But even more functions are, of course, always desirable. We always want more!